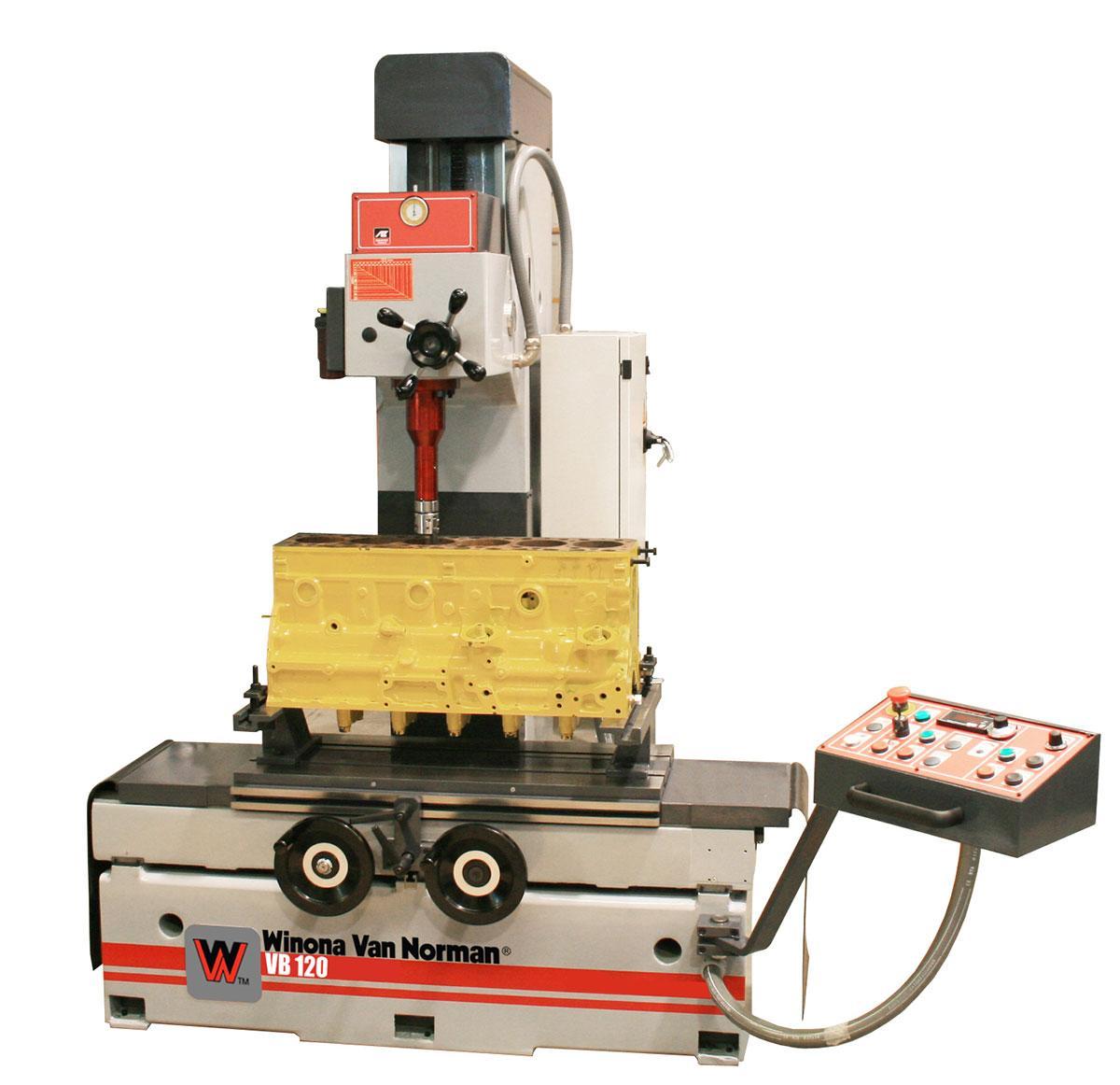 Operations
Auto, diesel, or motorcycle, the VB Series Machines will bore and mill rapidly and accurately!
Features
The CBN (Polycrystalline Cubic Boron Nitride) tool insert is a circular solid CBN structure that can be rotated and reversed. CBN inserts offer high speed stock removal, excellent finishes, and long economical cutter life.
Specifications
Boring Range
2.04-7.00 in
52-178 mm
Milling Head Diameter
12 in
305 mm
Maximum Vertical Travel of the Head
23 in
584 mm
Distance from Spindle Center to Column
13.2 in
335 mm
Spindle Rotation Speed
Variable 0.210-625 RPM
Spindle Feeds
Variable 0-4.75 IPM (0-120.6 mm/min)
Table Surface Feed
Variable 0-21.5 IPM (0-546 mm/min)
Table Surface Dimensions
13.5 x 33.9 in
343 x 861 mm
Maximum Longitudinal Travel of Table
32 in
813 mm
Maximum Traverse Travel of Table
2.1 in
53 mm
Fast Movement Motor Power
N/A
Overall Dimensions (LxWxH)
54 in x 46 in x 75 in
1370 mm x 1170 mm x 1905 mm
Approx. Machine Weight
2700 lbs
1224 kg
Approx. Shipping Weight
3100 lbs
1406 kg
Standard Tooling
With tooling options allowing a capacity range of 1.3" to 8," the VB is an industrial diesel or high-performance automotive machine. Standard equipment includes a 13.5" CBN milling head featuring two double-sided CBN inserts.
Downloads